12 Of The Most Paused Scenes In Movie History
In a lot of movies, there are some incredibly iconic scenes that include little snippets of genius that everyone has tried to pause and see at the exact moment they happen. I'm not going to lie, a lot of these involve nudity but a lot of them are just cool hidden treasures added to the film to make for an unexpected treat that only the eagle-eyed will spot.
With all the best films come those iconic, marquee scenes. Like Scarface has the 'say hello, to my little friend' scene and Titanic has the nude painting scene, there are those scenes that need double checking and pausing to make sure we take in all of what happened.
Here we have collected twelve of the most paused scenes in movie history…
1. She's The Man (2006)
In this movie, Amanda Bynes plays on an all-male football team and has to prove that she's a woman. Well, what better way to do it Amanda? This scene was paused so much and was part of one of Amanda Bynes' biggest movies. While she no longer appears in movies, during the mid-noughties she was one of the biggest stars. Meanwhile, another of the films' stars, Channing Tatum, appears in a ton of movies and is one of the biggest stars in Hollywood.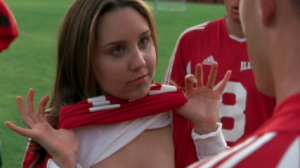 2. Iron Man (2008)
This is one of the most paused scenes because it includes one of Marvel's biggest 'Easter Eggs'. An easter egg is a hidden clue thrown in there by a director in a movie or a game to give a clue about a future game or to get the eagle-eyed viewers guessing about future movies. In the Marvel universe, Iron Man/Tony Starke is in possession of Captain America's shield. May have 'geeked out' over this little nod to the avid fans of the franchise.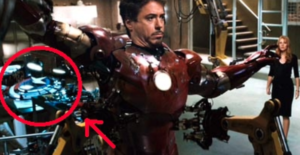 3. Wild Things (1998)
Starring Kevin Bacon, this film is about a high school counsellor being accused of rape by a rich girl looking to play games and spin a web of lies. The paused scene… well I think from the picture you can imagine there are quite a few scenes from the movie that were paused but I'm afraid we can't show you any.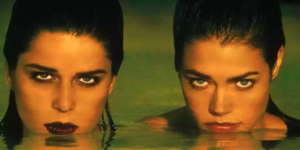 4. Burn After Reading (2008)
Brad Pitt starred in this film as a bit of an idiot, but one that everyone found adorable. Being the kind of character that managed to find himself in the most awkward of situations, on one occassion he finds himself hiding in a wardrobe trying not to be found. He is so well hidden that a lot of people pause the movie and try and spot him themselves. Part of the movie is the surprise that he is actually there and no-one saw it coming.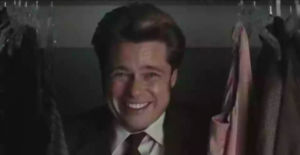 5. The Wolf of Wall Street (2013)
Well, I think the still of the movie below sums up exactly why this movie was paused here. Margot Robbie found a major breakthrough in this movie that topped a lot of people's lists for the movie of the year. In the film, Robbie plays the provocative wife of the lead, Leonardo DiCaprio, and in this scene particularly she shows off her provocative side. This scene will have been paused and rewound a lot of times and I think we all know why.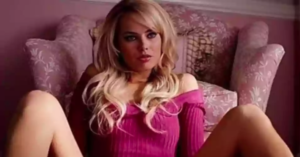 6. Pulp Fiction (1994)
Still raunchy, but this time for the ladies. Bruce Willis in Pulp Fiction after he has just got out of the shower has been paused a lot of times too. Released at the time of video and DVD no doubt this scene will have been paused numerous times. Pulp Fiction is one of the all-time great movies and while not remembered for this scene it is definitely a good bit of eye-candy for the ladies.

7. Entrapment (1999)
While not one of the best movies to make it to the cinema this film will always be remembered for a few different reasons, and yes those reasons are a little bit crude, like most of the films on this list. This scene of Catherine Zeta-Jones trying to successfully avoid some laser beams definitely made it worth watching for a lot of the male audience. It might be the reason why it actually did alright at the box office, who knows?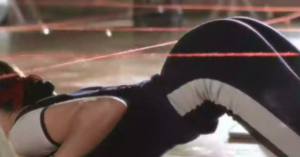 8. Who Framed Roger Rabbit (1988)
Who Framed Roger Rabbit was a half-animated, half-live action movie and was a massive hit back in its day. Jessica Rabbit was the sex symbol of the film and became a massive hit among men despite being a cartoon. The shot below shows the paused frame where a lot of men would try to pause the movie. Despite being 30 years old it is still one of the biggest Halloween costumes every single year.

9. Scanners (1981)
This is one of the goriest cinema pieces going and is definitely way over the top. Many people not only pause this movie but also play it in slow motion to see the true chaos. This scene in the film has a man's head explode unexpectedly and so the explosion, being way over the top, makes for some seriously gory viewing.

10. Basic Instinct (1992)
This movie, starring Sharon Stone, includes one of the most iconic scenes in movie history. Sharon Stone was one of the biggest sex symbols of her era and so a scene like this was always going to be remembered. In the interrogation scene Sharon Stone's character slowly crosses her legs and well, you can imagine which bit people paused at.

11. Fight Club (1999)
This movie is definitely one you'll want to rewatch again and again. If you haven't seen it I can only recommend that you do, but one of the best parts about rewatching it is trying to spot Brad Pitt in some of the most random places where he just shouldn't be. It is almost impossible to pause it at exactly the right time, but that's part of the fun!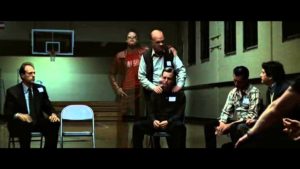 12. Man of Steel (2013)
This was one of the biggest hints for a future movie that has been spotted. The first film in DC's current run of movies shows the satellite that Superman grabs while combatting in outer space has the Wayne Enterprises logo on it and is a huge hint that Superman and Batman would cross paths in a future movie.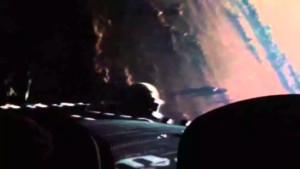 The post 12 Of The Most Paused Scenes In Movie History appeared first on Daily Feed.
This story has not been edited by LIPFEED. It has been generated by a syndicated feed